Become a superhero Ukraine Relief 2022
Please go to our GoFundMe Fundraiser www.gofundme.com/become-a-superhero to donate now.
Or Donate with PayPal:
The recent events in Ukraine have created the most significant amount of upheaval for a peaceful people. All of us who stand with the Ukrainian people are suffering. Moreso is the young and ill committed to the children's hospitals (in Ukraine) for various reasons (from HIV to cancer) and needs our support. The superhero school is a conglomerate of programs (stationed in Kyiv and other major Ukrainian cities) offering educational, social and psychological support for those developing minds committed to these institutions for prolonged periods of time. They receive care for their conditions while receiving this additional support to promote a healthy mind and body. Especially now, more than ever, they need our help. Please consider this program and support the Superhero school. Become a superhero for these beautiful and less fortunate children. God bless
Please go to our GoFundMe Fundraiser www.gofundme.com/become-a-superhero to donate now.
Or Donate with PayPal:
---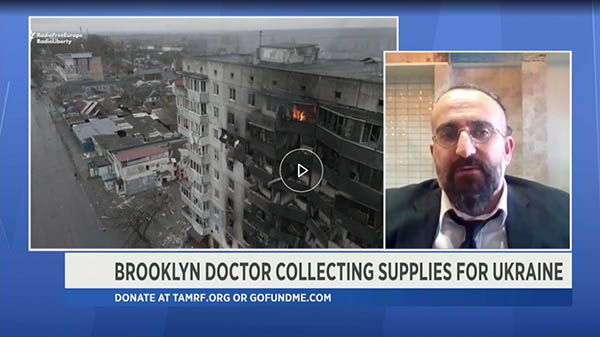 Dr. Shawn Yunayev, founder of the Trans-Atlantic Medical Relief Foundation, joined Shannan Ferry and Rocco Vertuccio on Mornings on 1 Sunday to detail his efforts to provide emergency medical supplies to his native Ukraine. Yunayev rallied his fellow doctors in Brooklyn to raise funds and collect supplies.
"It's heartbreaking. I can't describe it any other way other than heartbreaking," Yunayev said of the war in his home country. "You can't help but see your own family, your own brothers, your sisters, your mothers, your fathers, your own children suffering and dying."
Yunayev flies a wide range of items, from tourniquets to diapers, into Warsaw, Poland where a partner charity helps get the shipment over the border into Ukraine. Yunayev's colleagues in Ukraine then distribute the supplies and equipment to hospitals and medical centers in and around Kyiv, Yunayev said.
"I hope what we're doing is offering them solace and some brief moments of hope and peace," Yunayev said.
New Yorkers looking to support the efforts of Yunayev and the Trans-Atlantic Medical Relief Foundation can donate at TAMRF.org or GoFundMe.com.
---
We are all watching…we are all praying for our family and friends and as the world watches we are all hoping that good prevails and justice is finally served to those that seek to attack peace for personal gains all in the name of "security". I would like to offer a moment of reflection. Although we are unable to focus on anything but the now, I offer this as an example of what this community can do and will continue to do despite all adversity.
In 2016, the Kyiv-Based NGO Small Heart with Art established a network of Superhero Schools to ensure the constitutional right to education for children admitted for prolonged periods in medical institutions. The objective was clear, every child deserves the right to be educated regardless of the environment. Withdrawal from the educational process and social life negatively affects the psychological state of children and the speed of recovery. Thanks to the interaction of student and teacher, children will be able to develop the same level of knowledge with peers, which will reduce the likelihood of psychological pressure from peers after returning from the hospital.
The first Superhero School was established in 2016 for young patients admitted to the "center/clinic for the children living with HIV / AIDS" of the National Children Specialized Hospital Okhmatdyt (Ministry of Health of Ukraine). Currently, "Okhmatdyt" has:
three classes
a library, which has 10,000 books
a courtyard area/playground
"Supermobile" (for transport)
The goal is to establish these programs in every children's hospital and pediatric unit in Ukraine. To date, Six institutions have created superhero schools and more are in development. Resources for this programs have been acquired from regional and national socially minded enterprises who have supported these schools from inception. The national government has begun its participation with ongoing legislation to transform these projects into a state sponsored sustainable platform. As you can imagine, the legislative process takes time and will hopefully one day come to fruition but until then, this product deserves the all the attention form us all because it provides the greatest gift…the nutriment of a sick child.
I have had the opportunity of being a part of this platform since 2016. Participating in its growth, has been one of the great achievements of my professional career. I have seen the impact that this program has on a child who is confused about the illness that afflicts him/her (deserving of the chance to live a life free of fear and stigma) I know that it is effective and it is just.
We must protect Ukraine. Not only because of the injustice that it faces now but because of the greatness that it has created and will continue to do so
Please stand with me and support. Go to "BECOME A SUPERHERO" www.gofundme.com/become-a-superhero (SHARE AND/OR SUPPORT)
THANK YOU! God Save Ukraine
---
Dear friends,
Please read below. For all those interested, this is recently released by the ministry of health of Ukraine. God bless and Slava Ukraine…
Dear partners and friends of Ukraine ‒ representatives of different countries!
3 March 2022
First of all, we would like to say that the Ministry of Health of Ukraine is extremely grateful to you for numerous proposals to provide assistance to our country during the difficult time we are going through as a result of the insidious armed aggression of the Russian Federation against us! Your support is extremely important and we will never forget it!
As of the morning of March 3, more than 500 doctors, nurses and paramedics from the European Union, the United Kingdom, Switzerland, Turkey, Azerbaijan, Israel, the United States, Canada, Australia, New Zealand, South Africa, India, Jordan, Brazil and other countries have registered, who expressed a desire to come to Ukraine to help Ukrainian hospitals provide assistance to victims. And this list is growing every hour.
Registration remains open to all health professionals from our friendly countries who wish to assist Ukrainian hospitals in providing assistance to victims.
You can register by filling out the form: https://bit.ly/questionnaire_UA
After you register, in order to effectively plan, organize and allocate forces and resources, you will be purposefully directed by the coordinator to a specific hospital in the region of Ukraine, where a particular period of time will be most in need of help.
Contacts of national coordinators:
Serhii Ubohov, +38 067 231 7656, [email protected]
for English speakers: Mariana Sluzhynska, +38 050 315 8418, [email protected]
Once you have identified the region in which you will be working, you will be contacted by a regional coordinator who will get in touch with you and help guide you from the border to your destination.
Also, for verification, send you a letter from the Directorate of Medical Personnel, Education and Science of the Ministry of Health of Ukraine: [email protected] with a request to send scanned copies of documents confirming your medical education and professional qualifications specified in your questionnaire. Upon arrival at your destination, you must present these documents to the hospital manager. Protection of your personal data is guaranteed!
In turn, Ukrainian hospitals should promptly report and constantly update information on the need for medical staff to the regional health departments and to the address: [email protected]
Thank you again and we sincerely hope for effective cooperation and partnership!